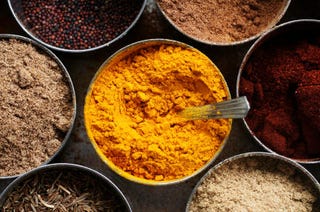 Powder, specifically.
First, let me apologize for not posting here recently. I stopped commenting after a certain troll attack, and then I was doing back-up mod duty on BKT.
So, curry powder. I need some suggestions for a good brand. The most readily available to me is the McCormick variety, which tastes dusty (and yes, I've bought fresh bottles and had the same dusty taste experience).
I have all the whole spices on hand to make my own curry, but it also involves a few fresh ingredients so it doesn't store well.
Do y'all have any jarred curry powder recommendations? I'm US based and willing to order something off the interwebs.