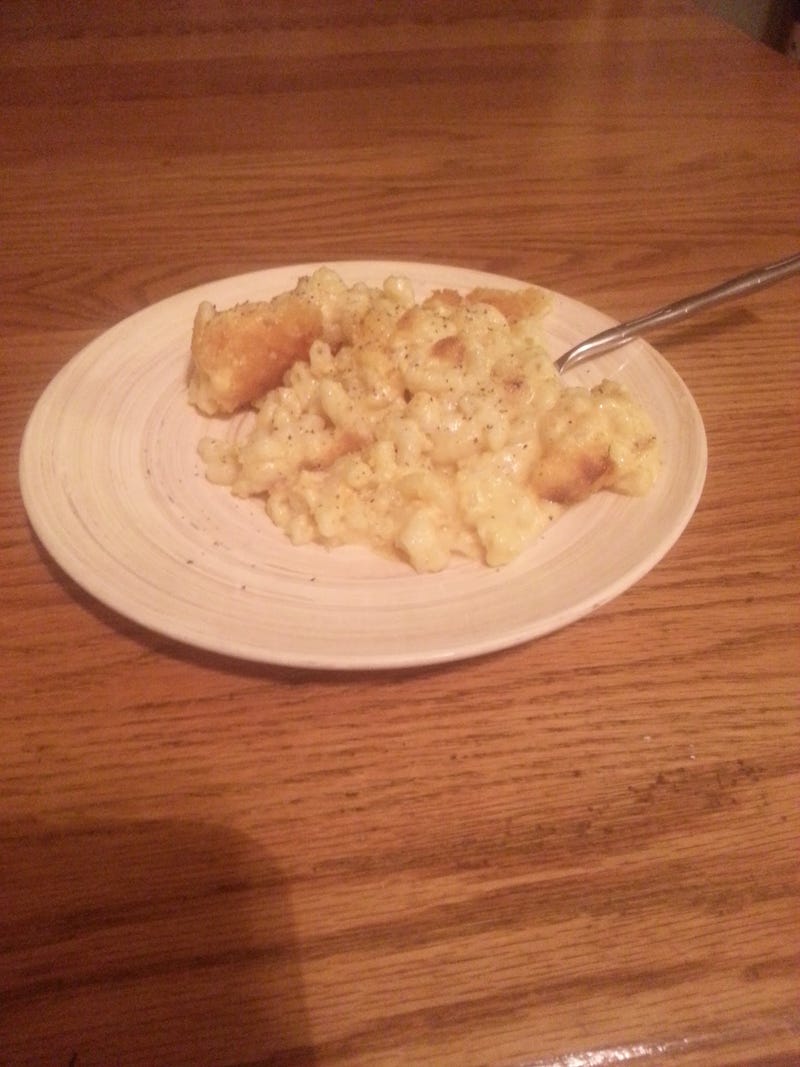 Let's talk comfort food. Here's what I had for dinner, delicious (and probably terribly awful for me) macaroni and cheese. I've made/modified quite a few recipes I've found online, and this has wound up being my favorite so far.
Here's what you'll need*:
More specifically,
2 tablespoons minced, dried onions
2 cloves (I tend to use ~2 teaspoons if it's pre-crushed) garlic
A half a stick of butter
2 cups cream
4 cups milk (I cheated and used 6 cups of milk because I didn't have any cream)
1 pound of macaroni
6 cups sharp cheddar cheese
Flour for thickening
Bread crumbs to dust the top
Preheat the oven to 350*F.
Start boiling your pasta, using whatever directions are on the back of the bag. I've made this recipe using penne pasta before, actually, and loved it.
In another large pot, melt the butter. After it's melted, saute onions and garlic over a medium heat. When the onions are translucent(/the garlic has started to brown), add the milk.
Slowly add the cheese a little bit at a time to the sauce, and let it melt, whisking at a medium heat. All in all I usually use about 2/3rds of the cheese in the sauce, just eyeballing it. It should start to get a yellow, but it won't thicken yet.
After all the cheese is melted, very slowly add flour (~a tablespoon at a time), whisking it until the sauce is no longer lumpy, until the sauce has started to thicken.
Pour your macaroni into a greased (I tend to use either olive oil or canola oil non-stick spray) pan (I'm honestly terrible about remember pan sizes, I believe I used an 11"x7" rectangular pan). Pour the sauce in after it, and stir it in. Now, add the rest of the cheese.**
Put the food in the oven, and cook for 35-40 minutes.
Take the food out, and now dust the top of the macaroni with bread crumbs. Put it back in for another 10 minutes, or until golden brown around edges/on top (it might need a little more or less time depending on your oven).
Eat the wonderful food you have just created.
*I'm cooking for five people, and even then we tend to have leftovers, so feel free to adjust these ingredients to the proper amount for you.
*I actually put leftover Easter ham into the macaroni and cheese this time. Easter/Christmas ham is the only time I eat pork all year, so I don't cook with it a ton. I tend to just tear/chop up the desired amount of meat, and put it in during the combination phase.